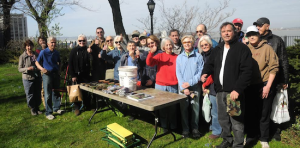 All of New York knows the comforting, sonorous voice ofTom Stewart, the station announcer for Thirteen. But he is also a beloved fixture at home in Brooklyn Heights, where he lives a couple of octaves down from his wifeMaureen Kelley Stewart, an acclaimed cabaret singer. And, yes, as trained singers, the two of them often collaborate on musical programs. But in a few weeks they will be doing (as the Monty Python Troupe often proclaimed) "something entirely different".
To benefit the Promenade Garden Conservancy, the Stewarts put together a program of antiquated Brooklyn-centric sheet music, long forgotten by time and talent, for a program of what they call "fetching, catchy and delightfully-hokey Brooklyn songs dating from 1883 to 1948…" Found in the Brooklyn Public Library archives, these gems include 'Brooklyn Belle Barn Dance', the somewhat ominous 'Brooklyn Daily Eagle Bridge Crush March', and  sub-titled 'Born and Bred in Brooklyn', a song that tells of "The Rise of Rosie O'Reilly".
To support the internationally-loved Promenade Gardens by attending this musicale, one may email immediately promgarden@aol.com to get an invitation. To do so helps support  the rare, lengthy garden that is a visual treat for the tens of thousands of visitors who come from far afield, and those Brooklynites who live or work within a stone's-toss of the Promenade…..Hey, if you're in the latter group, please step forward. You should join this convivial Conservancy.