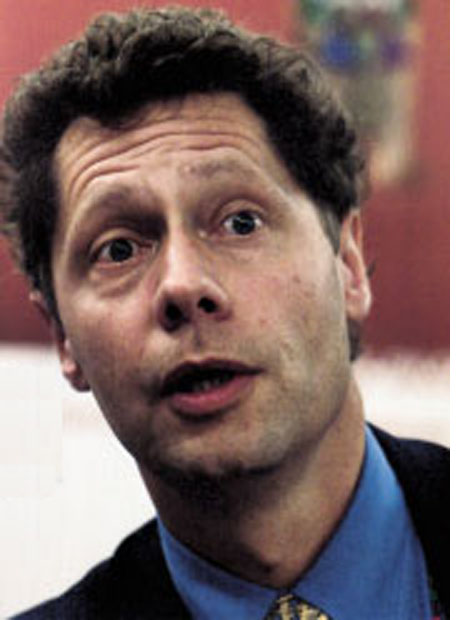 BROOKLYN HEIGHTS RESIDENT SETH F. BERKLEY, MD
, is president, CEO and founder of the International AIDS Vaccine Initiative (IAVI), a global non-profit organization operating in 24 countries to develop "safe, effective, accessible HIV vaccines for use throughout the world."
IAVI has most recently added Brooklyn to its research centers. Brooklyn's AIDS Vaccine Design and Development Laboratory, which opened in Sunset Park last week, is expected to be a global nerve center for researchers searching for a vaccine. The $17 million laboratory is the first occupant in a nearly 500,000-square-feet biotechnology facility being built at the old Brooklyn Army Terminal nicknamed "BioBAT."
"Essentially, this will be a hub," said
MICHAEL GOLDRICH
of IAVI. "We actually have this as a part of a network that includes Oxford, that includes the Scripps Research Institute at La Jolla, that includes a laboratory that we are expanding in India. So all of this is almost like taking a global pandemic and solving it scientifically, globally."
Berkley is a medical doctor specializing in infectious disease epidemiology and international health. Prior to founding IAVI in 1996, he was the associate director of the Health Sciences Division at the Rockefeller Foundation. He previously worked for the U.S. Centers for Disease Control, the Massachusetts Department of Public Health and for the Carter Center, where he was assigned as an epidemiologist to the Ministry of Health in Uganda. While in Africa, Berkley played a central role in Uganda's national HIV sero-survey and helped develop its National AIDS Control programs.
Berkley is also an adjunct professor of public health at Columbia University and an adjunct professor of medicine at Brown University. He has published several dozen articles on infectious disease and frequently serves as a media commentator on health technology development, AIDS and global health issues. He received his undergraduate and medical degrees from Brown and trained in Internal Medicine at Harvard.
* * *
IN 1951,
GEORGE ABBOTT
producedand directed A Tree Grows in Brooklyn as a Broadway musical, with music by Arthur Schwartz and choreography by Herbert Ross. The show starred
SHIRLEY BOOTH
,
MARCIA VAN DYKE
, and 12-year-old
NOMI MITTY
as Francie. It ran for 267 performances.
The story of this musical is told for the first time in
Love Is The Reason For It All…The Shirley Booth Story
by
JIM MANAGO
, with radio research by Donna Manago.
Author Manago was born in Brooklyn at 106 Emerson Place and lived there until he was seven years old in a second-floor apartment. His grandfather came from Italy — he was the landlord on the first floor. His cousins lived on the third floor.
WANDA L. CLARK

, Lucille Ball's personal secretary, said about Manago's book, "I thought I knew about this talented lady, Shirley Booth, from the awards for theater and movies and the wonderful television show. However, Jim Manago's book gives much more about her life and career. It's a very good read with so many beautiful pictures, and I'm delighted I found it, and highly recommend this book."
As appeared on the Brooklyn Eagle's history pages:
"Shirley Booth was born Thelma Booth Ford on August 30, 1907, the daughter of Albert James Ford and his wife Virginia (Wright). Her childhood was spent in the Flatbush section of Brooklyn where she attended P.S. 152. It was there she read her English composition, Autobiography of a Thanksgiving Turkey in the school's auditorium. This reading helped to change a shy, lonely child into one of the great actresses of our time. Her career in acting began in amateur plays from the age of 12."
Photo courtesy of Brown.edu